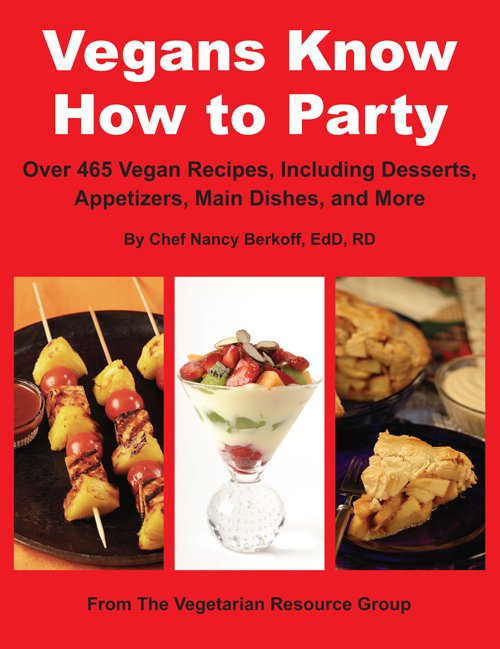 Chapter 20: Working with a Caterer
Excerpted from:
Vegans Know How to Party
OVER 465 VEGANS RECIPES, INCLUDING DESSERTS, APPETIZERS, AND MAIN DISHES
By Chef Nancy Berkoff, RD
Purchase a copy for $25.00 here
**And for a limited time, click here to order 4 books for $50 – a great holiday gift for friends and family!**
Finding a Caterer
Just as it is with any cuisine, caterers have varying abilities to work with vegetarian menus. You may be able to locate a vegetarian caterer in your area or a caterer who offers vegetarian menus along with other cuisines. If you can't get recommendations from friends, you may want to contact vegetarian restaurants or markets that offer prepared vegetarian cuisine. Other catering-locator resources may be the food editor of your local paper or institutions that offer vegetarian cuisine, such as Jain or Seventh-day Adventist groups.
When selecting a caterer, be certain to sample the food they offer. If a vegetarian restaurant or market offers catering services, taste menu items they have prepared before making your selection. If you will be using a caterer, ask for a menu tasting. Be reasonable when you do your tasting. If you are having a small buffet event, with less than 25 people, you should expect only very small samples. If you are having a larger, served event, more than 100 people, you may expect to see and taste an entire plate, so you can get an idea of how the menu items will appear and if the flavors are well matched.
Lots of Catering Concerns
We will leave the finances to you. Needless to say, have a firm idea of your budget before you start "auditioning" caterers. Many caterers charge by the "head," or number of people attending the event. In addition to the menu chosen, prices will differ for served versus buffet meals. Per-head charges may include some or all of the following:
appetizers
entrée and side dishes
bread and condiments
standard dessert (not specialty cakes)
hot beverages (coffee and tea)
service style (e.g., buffet vs served)
standard linen (table clothes and napkins)
room rental
standard centerpieces
taxes and gratuity
Catering charges differ greatly, as events and locations differ greatly. The following items are usually not included in per-head charges:
alcoholic beverages
nonstandard cold beverages (such as sparkling cider)
nonstandard desserts (such as wedding cakes)
nonstandard-colored linen
entertainment (such as live music)
audiovisual equipment (such as microphones, projectors, etc.)
parking
specialty centerpieces (such as ice or vegetable carvings, seasonal decorations, etc.)
flowers or room decorations
meals for nonguests (such as parking valets, musicians, hostesses, etc.)
specialty rentals (such as outdoor tents, podiums, champagne fountains, etc.)
The above mentioned items are in no way absolutes. Every caterer has a different way of handling costs. You need to be aware of what can be charged for and don't be afraid to ask questions. Negotiations are always a possibility. For example, if a caterer quotes you $25 per head for a seated wedding meal, you need to find out what this includes. Most caterers will have referrals for items they don't handle, such as flowers or music. Be certain to audition the non-food people the same way you auditioned the caterer.
The caterer will want a guarantee for the number of meals to be served. Remember that the final guarantee you give, usually three to four days before the event, is the number for which you will pay. Also remember that the caterer is only responsible for preparing meals for the number given in the final guarantee.
Do not assume that the caterer will "have it" or "do it." For example, if flowers are not discussed, there probably won't be flowers on the table. If centerpieces are not discussed, the caterer will probably place their standard centerpiece on each table, if they have one. If you do not ask for a microphone, the caterer cannot magically produce one.
This is your party. The more details you communicate, the more the event will please you. If you select a buffet, coordinate with the caterer how people will proceed to the buffet tables. If the meal is to be served, specify the order of service. For example, you may want the head table or the guest of honor to be served first. If you are having presentations or speeches between courses, tell the caterer. This way they can keep the salad cold and the entrée hot. Let the caterer know if it is all right for the servers to serve food and beverages or pick up used plates while speeches are being made.
If you have guests with special dietary needs supply the caterer with the information and ask how this will be handled. If you would like a small reception table set up at the room entrance, or an extra table for gifts or awards, you must tell the caterer, so they can order sufficient amounts of tables, chairs, and linen. You get the idea. The caterer can make certain the food is tasty, served at the correct temperature, and looks good. Beyond that, the caterer needs you to help with the "choreography" of the event.
Vegetarian Concerns
In addition to the linen, flowers, and music, the caterer may need direction in selecting and preparing menus that meet your specifications. Since there are so many nuances to vegetarian cuisine, even the most experienced vegetarian caterer should be offered a "short course" in the types of ingredients you do and do not prefer to have included in your meals.
Caterers are busy people and may not have the time or level of understanding to read a lot of information. The remainder of this chapter is designed to help you communicate your food preferences to caterers. Read them yourself so you are familiar with the contents. Make copies and highlight the areas that are important for the caterer. Rather than just handing the caterer a "reading assignment," be certain to review the information, so everyone is on the same page.
Click here to read the rest of this chapter.